What is the point of creating a new genre or form of art? Why and how it can be done? Nemuer have been producing a rather unconventional music, and they are going to discuss their views and experience in this matter.
What is the key to creating a whole new genre?
There is no key, for there is nothing entirely new. Everything we humans create is just a result of inspiration and mixture of all the various influences to which we had been exposed. It is only up to us which one we will choose, which one we will let engulf us and become a part of us.
After that the foundation has been laid and the wheels of your subconscious mind have been set in motion. Sooner or later something has to come up to the surface, and it is only up to you what you will do with it. It does not matter on the form you choose, but it is necessary by that time to have an advanced skill in something that allows you to express yourself or your subconsciousness at ease with little or ideally no restrictions.
So if you have the skill to capture the mixture that formed in your head, it is inevitable that something interesting will be created. Creative process is a chaotic happening, and when it comes to new idea, it seldom works with solid structure and reasoning. On the contrary, we think it is not entirely up to us but rather on our subconscious mind that will eventually find a harmony in the original chaos of influences. Even if you listen to your most favourite music, on your subconscious level there are probably only a few specific features that resonates with you so much. And when you come up with a new track, or with a new genre, guess what? It is based on those very features.
What is the point of creating something new?
People like to see, hear, or feel what they already know but in slightly different colours. Then why coming up with something new? Why not to start another rock or pop band playing covers over and over again? Why not to start a Youtube channel with covers to the most famous melodies?
Well, you can definitely do that. But we guarantee you that it is much more fulfilling to actually come up with and share the music or art that comes from your within, that was made by you, and that is one hundred percent genuine.
Making covers or playing mainstream music could definitely be a way how to become this so-called professional musician or artist. It is, however, very likely that you will end up as a mere drop in the ocean and unless you really came up with something interesting, you will not be remembered in a couple of years, but more importantly you will not give anything new to this world and you will not feel good. We believe that now more than ever it is paramount to create something with identity. And making something very specific and high in quality could not only be a way how to enrich and broaden people's taste but also to build your name and to succeed.
So we are finally coming to the answer to the question "What is the point in creating something new?". As we see it, the point is to give people something remarkable but coming directly from your heart. It does not mean it has to be emotional, if you love strictly technical art, and you know that is where your real passion is, go for it! After all not only the listeners should feel good about your work, but above all you should. Otherwise what would be the point?
Genesis of Nemuer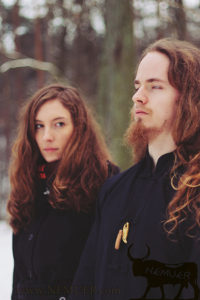 Nemuer, atmospheric dark folk duo from the Czech Republic, came into existence through the process of evolution. During ten years of Michael Mist's musically active life, he had been exposed to manifold music styles, genres, and forms of art. He came up with various interesting ideas, but it took a long time until it crystallized into a new music genre and form of art.
The Nemuer duo was formed in Summer 2014 by Michael Mist and Katarína Pomorská after Michael returned from his four-month stay in Northern Finland. Not only did he gain a lot of inspiration there, but he also returned with a strong urge to finally put together something special, so far unheard, and release it publicly.
We think that sometimes the very impulse to actually release something is paramount.
Our advice?
Do not wait forever!
Release your art and do not be too afraid of criticism.
Of course, to some extent, everybody is, but you will soon understand that the very criticism can often help you the most.
Do not let yourself to get discouraged from any art you do. For no matter what people say, if it comes from the bottom of your heart, it will always find its audience.
Read more about the book on which the entire Nemuer project is based or listen to some atmospheric dark folk.
Our next Fullmoon blog post should be published on December 14!