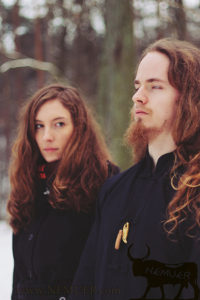 Nemuer is an atmospheric dark folk ambient duo from the Czech Republic.
Since 2014 Michael Mist and Katarina Pomorska's main aim has been to immerse the listeners into the world of dark fantasy, eerie dreams, and mystical atmosphere.
Nemuer's soundtrack music features grim captivating tones of acoustic guitar, primordial chanting, female soprano, traditional and unique instruments, and unusual harmonies.
Their two recent albums from the upcoming octalogy are interconnected with the dark fantasy novel Michael is currently working on. Each album corresponds to one chapter of the book, which builds to create a singularly intense experience.