Nemuer perform live!
This spring we had our first tour across the Czech Republic – one concert in Prague (with a special guests from Germany Malte Marten and Alex,
one in Brno and one in Ostrava (all in tea-rooms). Also we had an extra gig in a cave near Brno where we also started recording vocals for our new album.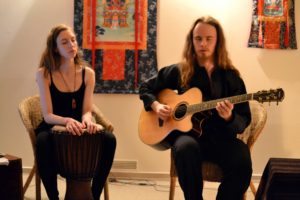 As for the summer – we are going to play on Prazdniny v Telci festival and the day after we set out to Hungary to perform our very first concert abroad.
Then we are moving to Germany for few days. Thereafter we move to the Netherlands where we have two concerts to play. The end of our little EU trip will be Paris where we want to play as well.
Check out our Tour or Facebook to be freshly informed about the dates.